Knowing that other people are on your site makes your users feel less alone, and generates more trust in your website.
The Live Counter displays the real number of users that have been on your site over a certain number of minutes.
Setting up the trigger is easy, because the Pixel is already doing the work for you. The Pixel counts how many times it has been called in a given timeframe, meaning that it counts the number of users for you.
First, log onto your K Factors account and choose the website you want to add a Live Counter to.
Click "Add New Notification", then choose the Live Counter widget. Give your widget a name, and click "Create".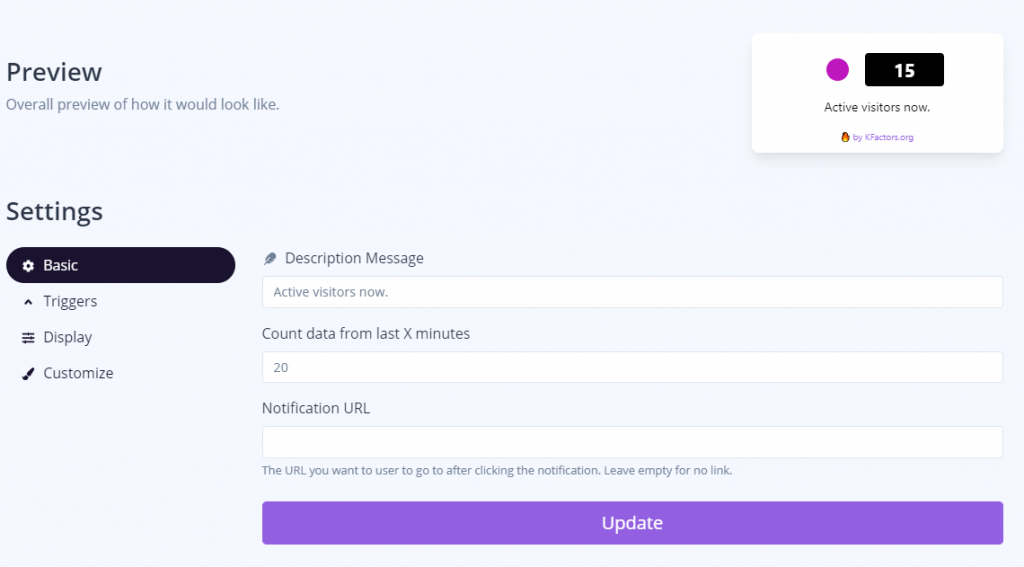 You can change the description message, but "Active visitors now." gets the job done.
You can specify how long the Pixel counts data for. A longer timeframe means more data, which means more users. However, a longer timeframe does move your number away from the "live" count that you're looking to display, and that users are expecting to vary as time goes on. You should find a balance between these two, and set your count data to that median number of minutes.
You can put in a URL that allows your users to be sent to another page if they click on your notification. But in most cases, users just want to see the number of people who are interacting with your site, so the URL is usually not necessary.
Your triggers, display, and customization options are up to you.
I would recommend keeping your Live Counter on all pages, because the point is for users to be able to constantly know that they're not alone.
I also added a branded color for my circle. It looks like this: